Sold Out: Winter Formal 2023
Join us for drinks, fine dining, and late night party at Hilton York as Alcuin celebrates the end of the first semester and the start of the festive season.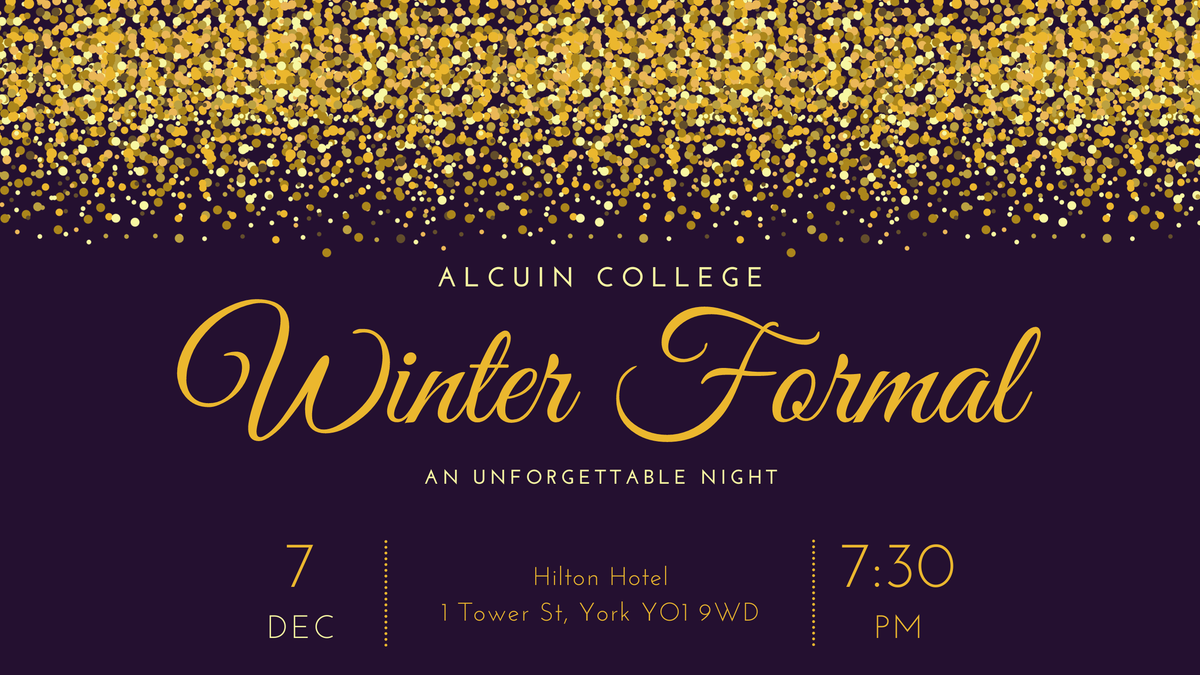 Bring out the glad rags and join us for an unforgettable evening of elegance, entertainment, and celebration at this year's Alcuin Winter Formal. Dress to impress, in formal wear or in something festive – a photographer will be on hand to capture you in all your finery! Enjoy a glass of fizz on arrival, followed by a festive evening feast. Dance the night away with a late night party – or just chill and chat, the bar will be open all evening!
Alcuin Winter Formal Ticket
Ticket includes access to Hilton York from 7:30pm - 11:30pm, glass of fizz on arrival (or non-alcoholic alternative), festive evening meal, late night party with resident DJ, professional photographer, all evening bar access.
Sold Out
Any University of York student. Each student will need to purchase their own ticket via the YUSU website.
We have made this change after negotiating with venue due to popular demand.
Starter
Ham hock terrine, served with fruit chutney & sourdough toast.
or
Wild mushroom soup, served with truffle-infused croutons (PB)
Main
Turkey paupiette served with parsnips, heritage baby rainbow carrots & boulangère potatoes, and brussel sprouts.
or
Cumin-spiced butternut squash and lentil Wellington, served with parsnips, fine beans,carrots, & gravy (PB).
Dessert
Pear and gingerbread tart, served with toffee sauce.
or
Cinnamon swirl baked cheesecake, Morello cherry compote (PB).
7:30pm - Drinks Reception on Arrival
8:00pm - Festive Feast Served
After Meal - DJ and dance floor opens
Photography service and bar will be accessible all evening.
We'll send out a form closer to the date where you can add names of those you'd like to sit with.
We'll do our best to meet all requests where practical, but we can't make any promises!
Closer to the event, we'll send out a form to all ticket holders to complete.
Hilton York is catering for the evening and will be offering vegan and vegetarian options, as well as ensuring all allergies are taken into careful consideration.
20 Minutes from Alcuin College using 66/67 busses.
30 Minute walking directly from Alcuin College.
10 Minutes by car.
When do ticket sales end?
Ticket sales will end on Sunday 5th November.
This is to give sufficient notice for seating arrangements, dietary requirements, and dinner pre-orders to the venue.
---
I've still got questions...
Email [email protected] and we'll get back to you as soon as we can!